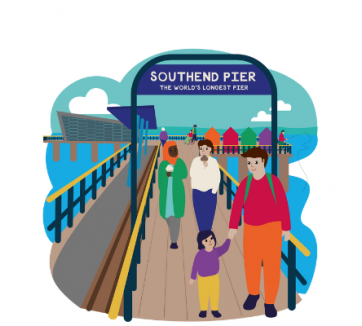 Southend

locality

With a population size of 182,465, Southend is a Unitary Authority with the nearest major seaside resort to London, attracting millions of visitors each year. It is famous for the longest pleasure pier in the world (1.5 miles long) as well as its beaches, gardens, yachting, open-air theatre, carnival celebration, and seafront illuminations.
Making movement a priority in Southend
Much of the work in Southend is driven via the community activity network. This incorporates both a Strategic Network Group (that feeds into the Health & Wellbeing Board), and a wider Delivery Group. These are made up of representatives from Active Essex, Southend Borough Council and local organisations within the statutory, voluntary and private sectors. The main objectives are to improve physical activity and to maximise the opportunities and resources available to increase the health and wellbeing priorities of our residents in Southend. Find Your Active Southend works collaboratively with sports clubs, sports facilities and both local and Essex-wide partners, including other boroughs and districts.