Improve Health and Wellbeing
Priority
Two
A key priority set out in Active Essex's strategy was to improve the outcomes for people's long-term health and wellbeing. Changing behaviours through a targeted approach, resulted in an increase in activity levels amongst under-represented groups in Greater Essex. This had a positive impact on residents' physical, mental health and wellbeing.
Active Essex wanted to support the NHS in enabling more adults and children to achieve and maintain a healthy weight. It was important to promote the benefits of being active, encouraging people to take responsibility for their health and wellbeing, and to make better lifestyle choices. It's a fact that participation in regular physical activity can reduce stress, anxiety and increase self-esteem, which enhances our wellbeing. Even just 10 minutes of brisk walking can increase mental alertness, energy and improve your mood. The term 'physical activity' is now being used more widely, with the recognition that being physically active can be achieved in many different forms and ways that suit each individual.


If physical activity were a drug, we would refer to it as a miracle cure, due to the great many illnesses it can prevent and help treat.
The Chief Medical Officer (2019)
At the beginning of our strategy in 2017, the picture in Essex looked like this:
17.1%
of residents have a disability or life-limiting illness
60%
more adults per 100,000 are supported for mental health issues
£58m
is the estimated cost of inactivity to the NHS in Greater Essex
The Essex Joint Health and Wellbeing strategy identified mental health as a high priority on the agenda of all partners in Essex. Hosted by Essex County Council, in 2016, Active Essex became part of the Public Health team to further position physical activity in the health and wellbeing sector. Following on from this, Active Essex's Director, Jason Fergus, joined the senior leadership team, which initiated close working relationships across the county.
In 2017 Public Health Practitioners were appointed by the local authorities to support the development of local health and wellbeing strategies and boards. Active Essex went on to build strong relationships with all Public Health Practitioners to highlight the importance of physical activity. This has now become a key factor within Greater Essex health and wellbeing strategies. A wider audience engagement and an increase in activity, has been made possible through the relationship managers partnership work at a local level.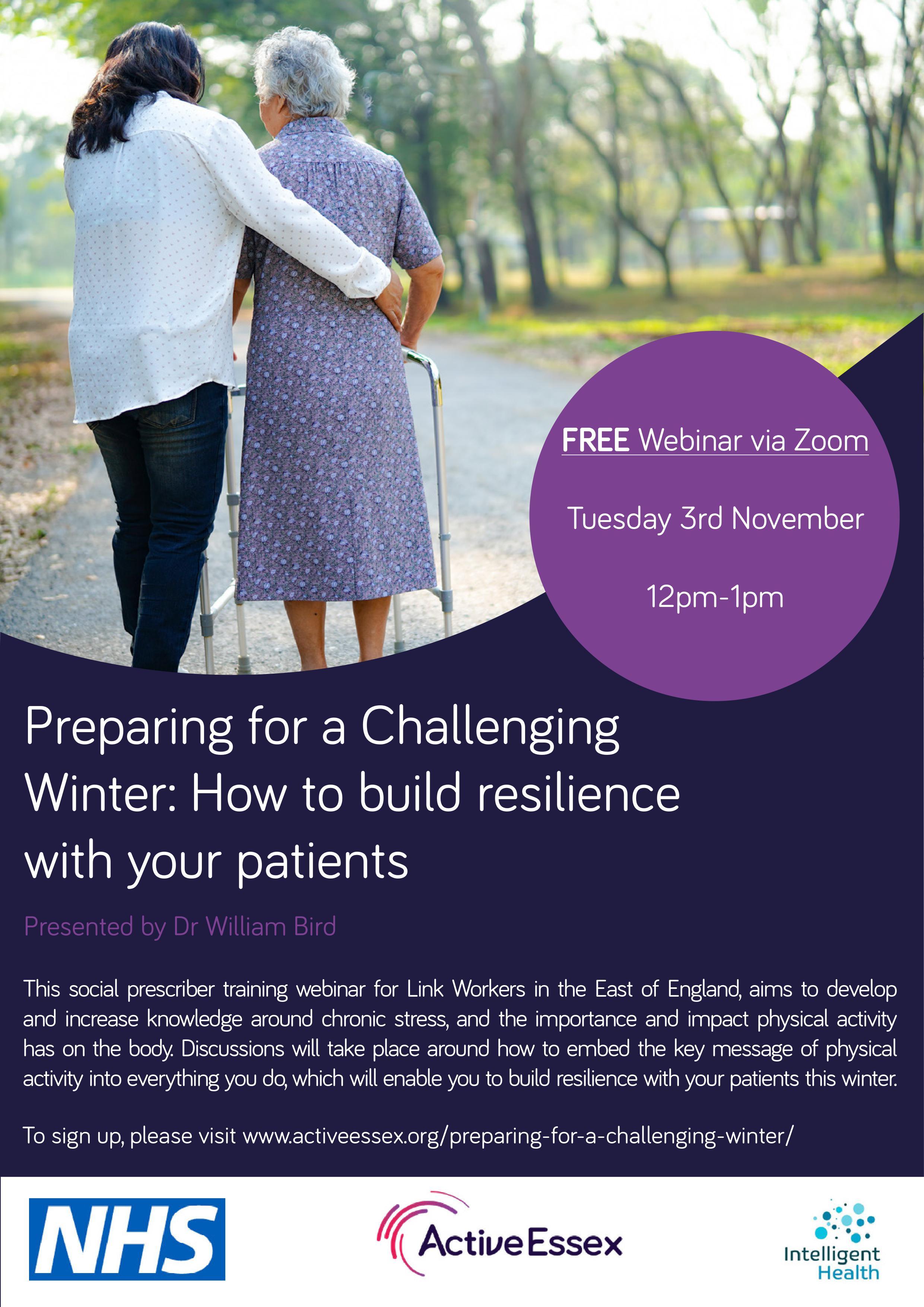 At the start of 2020, the Covid-19 pandemic positioned physical activity on the prevention map, and was championed by the Prime Minister and Chief Medical Officer stating how important it is to be physically active, especially during this time. Later that year, the Thriving Communities programme was launched by the National Academy for Social Prescribing, and Active Essex were appointed as a host agency for a Physical Activity Social Prescribing Advisor across the East of England. To develop this further, the strengthened relationship with Dr William Bird from Intelligent Health has allowed Active Essex to infiltrate within the healthcare system. With Dr Birds support, Active Essex hosted an East of England training webinar for 100 social prescribing link workers on 'Preparing for a challenging winter: how to build resilience with your patients'.
Relationships within the health system have grown to include Clinical Commissioning Groups, Acute Hospital Trusts, and at a national level, Public Health England. Active Essex supported the rollout of the National Public Health England programme 'Moving Healthcare Professional'. This equipped the healthcare professionals to develop their skills and confidence around the benefits of physical activity and the ability to have a conversation with patients about being active.
Over the lifespan of the strategy, Active Essex have upskilled the sport and physical activity workforce in mental health awareness. This has allowed projects to have a holistic approach to combating inactivity and broadened the workforces' knowledge in improving health and wellbeing. Active Essex replicated the UK Coaching campaign locally using Mind's 'Return to Play' document to support this, as well as Mental Health Champions within Essex FA and Essex Netball. It's become extremely important for Active Essex to ensure that their staff, as well as other workforces, are mental health first aid trained.
631
people across Essex completed online mental health awareness training
30
clubs embedded Mental Health Champions across Greater Essex
23
Mental Health Champions completed training
By localising national campaigns, Active Essex were able to tailor relevant messaging to local communities. An example of this was the 'Better Health' campaign, which launched in 2020 after Covid-19 had given us all a wake-up call. The campaign was aimed at inactive, overweight and elderly residents, which inspired individuals to move more and eat better, helping to improve their physical and mental health. Due to the pandemic, evidence emerged that if individuals in this target audience were to contract Covid-19, they would more likely be admitted to hospital. Through resources, videos and support, the Better Health campaign provided much needed motivation, for residents to change their lifestyle habits as we headed into the winter months.
174,204
people inspired through the social media campaign
2,548
individuals visited the website resources
5,190
people engaged in the campaign
Watch our video from Dr Bird
Long-Term Health Conditions and Disability
Soon after the conception of the strategy, it became apparent that Long Term Health Conditions (LTHC) and disability needed to be a key focus within the health and wellbeing priority. Following in Sport England's footsteps, Active Essex adopted the We Are Undefeatable campaign, to help people with health conditions find a way to get active. LTHC include Diabetes, Dementia, Parkinson's, Cancer and Arthritis.
In support of the national campaign, Active Essex shared stories from Essex residents living with a long-term health condition to help show how physical activity, not only helps manage their condition, but improves their mental health and wellbeing.
17%
of Essex residents have a LTHC that limits their day-to-day activities
15,000,000
people in England are living with a LTHC
15
health and social care charities support We Are Undefeatable
Sport for Confidence
It has been important for Active Essex to develop key strong relationships with organisations across the county to help achieve a strong workforce across the sector and ensure all targeted audiences have physical activity opportunities available to them. One of these key relationships is with Sport for Confidence. Active Essex has been working with Sport for Confidence since its inception in 2015 and for the duration of their strategy. Sport for Confidence places health professionals and coaches into leisure centres to provide inclusive sporting opportunities for people who face barriers to participation. This can include those living with learning disabilities, mental health conditions, dementia, autism, physical impairments, homelessness and many other complex health needs.
At the beginning of our 'Changing One Million Lives' strategy in 2017, Sport for Confidence was operating solely in Basildon Sporting Village. Due to Active Essex's part in securing funding from Essex County Council Public Health and their continued support, Sport for Confidence now deliver in 8 additional leisure centres across Greater Essex.
Sport for Confidence, with support from Active Essex, has shown that a whole-systems approach to health care, is what is needed to drive positive change on a community-wide scale and that physical activity has a central role to play in delivery plans.
Lyndsey Barrett, Founder of Sport for Confidence
71
different group sessions delivered every week
2,840
attendees each month
In order to develop their work around health and wellbeing organisations even further, Active Essex, have been in partnership with Pure Training and Development, to host a series of long-term health condition workshops for the sport and physical activity sector. The training was designed to provide up-to-date knowledge of Diabetes, Dementia and Cancer for health professionals, sport deliverers and volunteers; enabling them to work safely and effectively alongside individuals living with these conditions.
Since attending the Cancer workshop, we have developed our own 'CanDo' branding to ensure participants are aware that the instructor is Cancer Awareness trained. We now offer Cancer rehab sessions and are able to adapt any class if needed.
Sarah Potts, Director of Active Life Southend